Sunport Power Cor., Ltd., a leading photovoltaics(PV) MWT technology researcher and PV products manufacturer, brought its lightweight flexible PV module series to the 2023 Smarter E South America exhibition held at Sao Paulo, Brazil from 29th Aug to 31st Aug.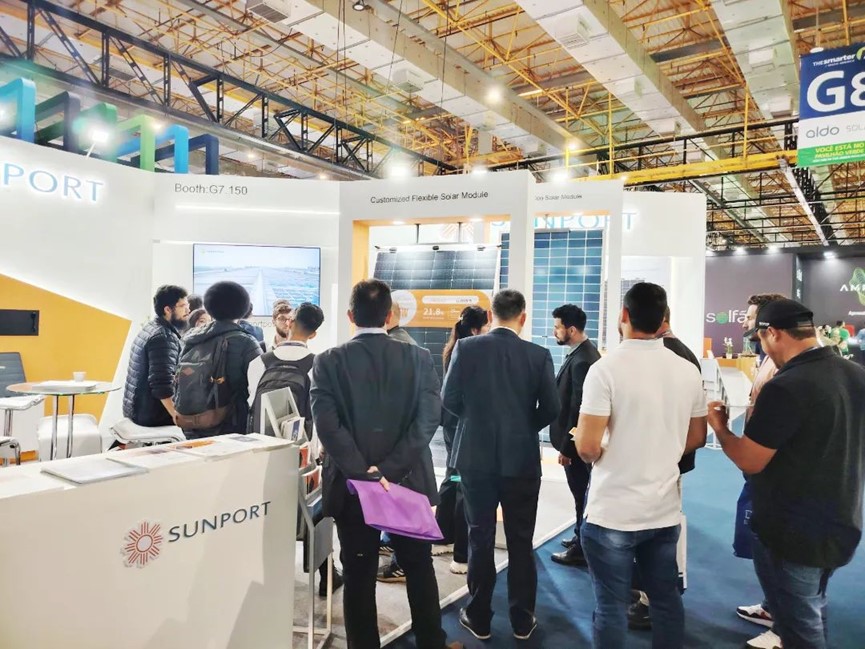 The Smarter E South America presents the core topics of the energy world of tomorrow. Intersolar South America is part of its innovation hub and is the largest exhibition and conference for Latin America's solar industry.
At Expo Center Norte, Sunport exhibited its high cost-effective 580W TOPCon PV module to satisfy the increasing utility-scale project needs in the region. To meet the distributed project demand, Sunport brought its lightweight flexible PV module series to apply on the curved surfaces,balconies and roofs with low load capacity. Sunport lightweight series modules have the weight of 2.98kg/m2, only 30% weight of conventional modules, and have the thickness of 2.5mm and minimum bending radius of 0.5m. All these features make Sunport lightweight products distinguished from all the other PV modules in South America area.
Lightweight Flexible PV Module for Roofs
Sunport supplies 360W-375W MWT flexible module with module efficiency up to 21.8% in two color versions, white and full black. It can be installed on rooftop simply by glue instead of complex procedures like welding or bolting, which reduces 60% installation cost.
Lightweight Flexible PV Module for Balconies
With added-holes in the peripheral edge, this kind of flexible module can be easily installed on the bar of the balcony or wall by ribbons through the holes. As it is light, thin and flexible with bending feature, it can be fixed firmly to ensure safety application. The standard product dimension is 1840*1040*2.5mm.
Customizable Flexible Module Pieces for Various Scenarios
To showcase the company's customization ability, Sunport team brought 1075×535×2.5mm and 1810x290x2.5mm flexible panel. Different sizes and shapes can be customized to adapt to different application scenarios such as roofs of stations, vehicles, etc.
Portable Charger Panel for Outdoor Activities
Designed for outdoor activities and remote travels, Sunport 100W portable panel can be folded in dimension of 378*618*20mm. Users can easily get a reliable source of power for personal devices such as phones, cameras and drones by just unfolding it in the sunlight.
Brazil's solar growth remains strong in all segments. Surrounding countries like Argentina, Colombia and Chile are also showing increasing solar application momentum. Sunport is committed to serve the South America market with not only cost-effective PV products but also distinguished solar products for high-end demands.