Warning
: file_exists(): open_basedir restriction in effect. File(D:\wwwroot\www.sunportpower.com/wp-content/uploadshttps://photos.prnasia.com/prnvar/20200518/2806301-1) is not within the allowed path(s): (D:/wwwroot/www.sunportpower.com/;C:/Windows/Temp/;C:/Temp/;D:/BtSoft/temp/session/) in
D:\wwwroot\www.sunportpower.com\wp-content\themes\kallyas\framework\zion-builder\hg-framework\inc\image-resizer\class-image-resize.php
on line
181
WUXI, China, May 18, 2020 /PRNewswire/ — World-class solar module manufacturer Sunport Power, has recently launched the second-generation high efficiency MWT C series and D series modules. Using patented Metal Wrap Through (MWT) technology, Sunport's classic C6-II and full black D6-II modules offer higher power and greater flexibility of application.
Sunport's second-generation high efficiency MWT C series and D series modules
Increased Power Output
The second-generation C6-II and D6-II solar panels feature multiple upgrades alongside an increased power output up to 375W. The MWT technology abandons traditional solder ribbon design and creates conductive back-sheet interconnection structure, which can avoid soldering stress and micro-cracks of cells to boost long-term reliability. The back-contact design ensures a stable connection of cells regardless of distance and placement. Benefiting from further optimized module layout design and half-cut cells, 40W extra power output has been added to the second-generation products.
"With our goals for the sustainable development, Sunport Power has been pioneering the development of our MWT-based modules, which offer a significant advantage over standard photovoltaic module designs in terms of both performance and durability. Our company will continue to focus on product R&D based on this world-leading technology, creating new and innovative solar solutions for the global market," said Martin Green, Chief Scientist of Sunport Power.
Excellent Performance and Market Prospect
Sunport Power's breakthrough in the back-contact PV modules drives forward the photovoltaic industry from the level of conventional technology to the field of high-efficiency solar panels with an affordable approach. In becoming the only GW-scale MWT cell & module manufacturer in the world, Sunport's first-generation C6 and D6 modules hold the dominant position in the target market across several countries including Italy, Spain, Australia and Poland.
"We are glad that our products have gained recognition in global markets. To date, our full-black rooftop solar modules from D6-series account for more than 50 % of shipment volume in Europe," said Dr. Fengming Zhang, CEO of Sunport Power, "We have also signed an agreement with the biggest PV distributor in Poland, with the plan to provide rooftop solar modules for more than 40,000 local households in the next two years."
Further Development
Given the tremendous success of the first generation of D-Series modules, Sunport is anticipating considerable interest for its new generation products in Europe, Japan and Australia. Through an increasing focus on MWT technology, Sunport is positioning to become a leading solar panel manufacturer in advanced solar technology and make a meaningful impact in the switch to efficient green energy.
About Sunport Power
Sunport Power is dedicated to the R&D and manufacturing solar cells and modules with high efficiency and reliable performance as the world's best solar panel supplier in MWT technology. Since 2012, the company has spearheaded the movement towards replacing fossil energy with solar power.
For more information, please visit: www.sunportpower.com
Photo – https://photos.prnasia.com/prnh/20200518/2806301-1?lang=0
Source: Sunport Power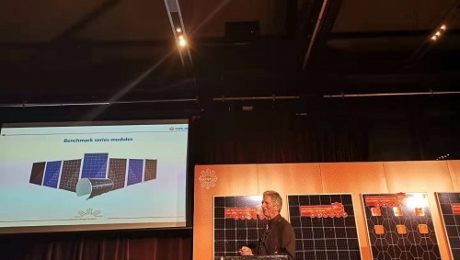 Sunport Power introduced their Metal Wrap Through (MWT) technology to the hundreds of attending Australian retailers and installers at the recent Game Changers event in Sydney. The MWT modules were built in a way that overshadows current solar panels within the Australian market in terms of efficiency. MWT means metal wrap through technology which abandoned the traditional solder ribbon design, however creating conductive backsheet interconnection structure, avoiding welding stress and induced cell crack in long term.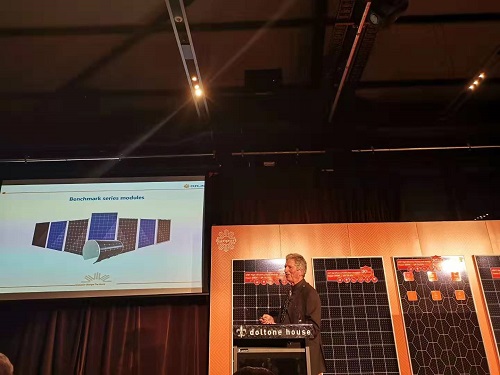 Snowfall:https://www.solarchoice.net.au/blog/sunport-mwt-solar-panels-launch-in-australia/https://www.solarchoice.net.au/blog/
Sunport Power is making breakthroughs in the back contact PV products, promoting the photovoltaic industry from the level of conventional technology to the field of high efficiency but affordable technology. The Solar Panel also offers a power generation warranty backed by Lloyds and PICC for 30 years matching the length of Trina Solar's Duomax panel. Sunport Power has established three major manufacturing bases, covering the backsheet, solar cell and module production with a current capacity of 1.4GW.
Martin Green, UNSW professor and the Chief Scientific Officer of Sunport Power, explained that MWT technology allows more efficient current collection from the front side of the cell through to the back of the module. As the result, MWT module provides higher power and better reliability, the efficiency ranges from 18% to 21%. Sunport Power's modules have passed various testing through the TUV NORD, CQC and CGC etc. third-party certification authorities. Prof. Green mentioned, "By MWT back contact, the solar cells are interconnected and had particular advantages in terms of the stress you get when bending a module".
The solar panel's price in the Australian market is speculated that the MWT modules will sit between mid-range to premium level, the product is already available in the market from some of the major wholesale companies.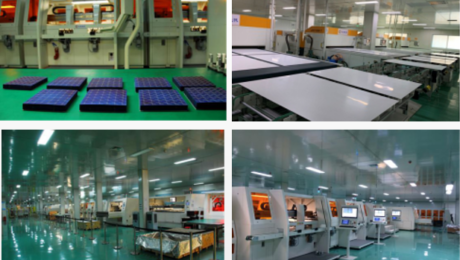 From owning the independent R&D of the new generation high-efficiency Metal Wrap Through (MWT) solar cells and modules technology to producing benchmark series, flexible and high efficiency half-cell modules, Sunport Power was founded in 2012 and has achieved the complete industrial chain of MWT products in 2018, Sunport is gradually opening a new era of 'MWT +'. Nowadays Sunport Power has established three major bases and five factories in Wuxi, Xuzhou, Nanjing, covering the backsheet, solar cell and module production. At present, the production capacity of MWT back contact solar cell and module has reached 2.8 GW, forming a complete MWT PV products industry group.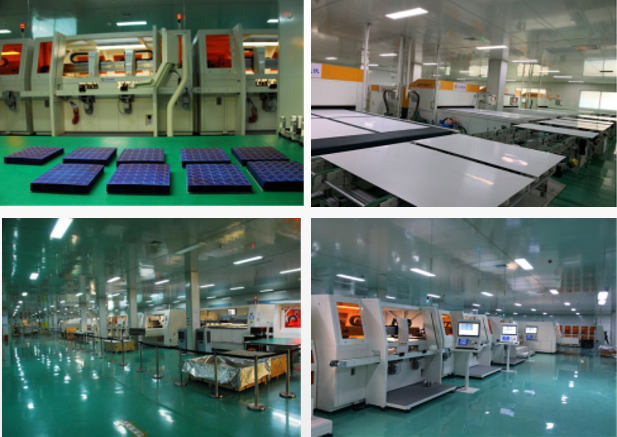 Benefiting from past seven years of great effort, Snuport Power insists on innovative technology to lead the company's rapid development. On the road of innovation, Sunport has been moving forward and awarded "National High-tech Enterprise (China)", "National Intellectual Property Advantage Demonstration Enterprise (China)", chosen as one of the first three rounds suppliers of National Top Runner Projects. Thanks to the excellent performance, the high-efficiency MWT modules were praised by the PV industry. Based on the global perspective, Sunport Power is promoting overseas marketing development and building a global marketing network which covers dozens of countries and regions to gradually raise our popularity and brand influence over the world. All our effort and preparation is for the better show on 2019 Intersolar Europe.
Intersolar Europe 2019
Intersolar Europe is held on May 15th-17th, 2019. Since the 15th of May, Sunport Power presented a series of benchmark products, such as the all black module, the world's first flexible and efficient back contact module, double glass modules. All these products showed the latest cutting-edge scientific and technological achievements to the global industry audiences and created a new experience for efficient renewable energy applications.

High efficient MWT modules
SPP-Flex 1.0 is the world's first flexible back contact PV module, which combined with the advantages of high flexibility, high efficiency, ultra-thin, light-weight, easy installation and novel appearance. It shows much wider application potential and attracts many visitors to come over. In addition to the display of these new high-efficiency MWT products, we also prepared exquisite buffets for our customers.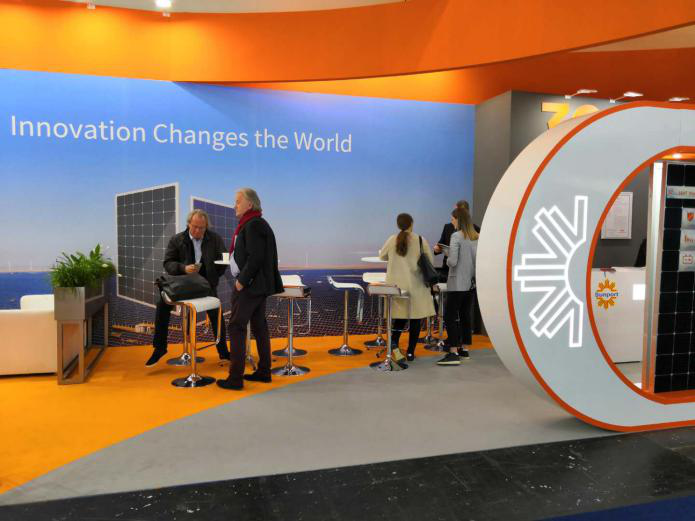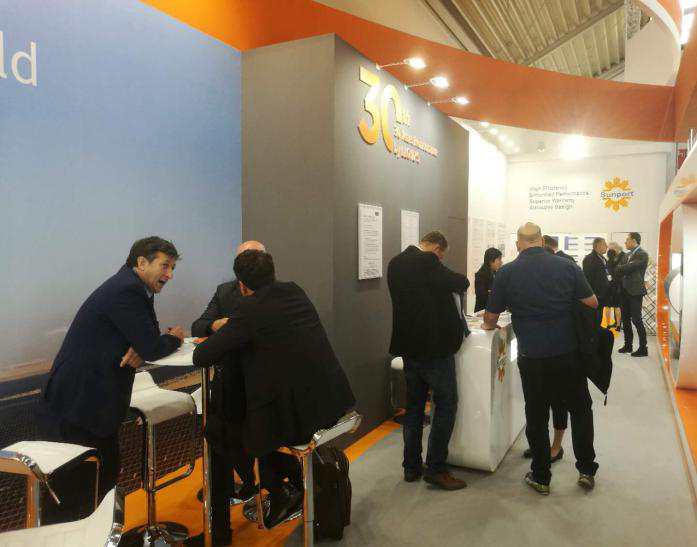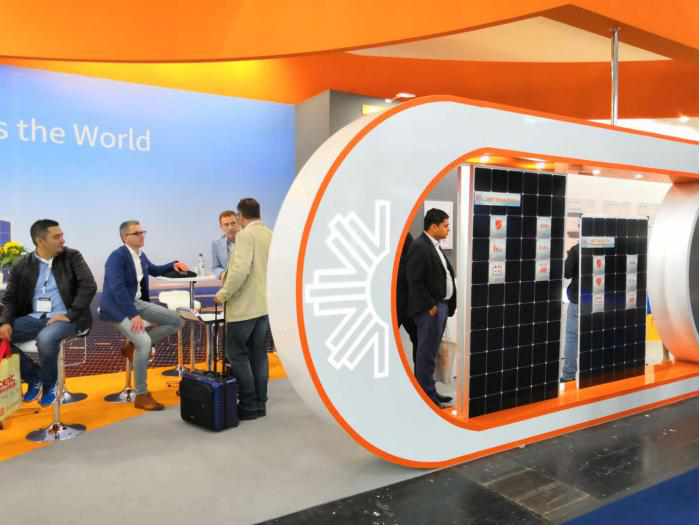 MWT modules received the attention from the industry insiders
High efficiency and cost-effective products have always been the pursuit by the mature PV markets, such as Europe. In recent years, we has deeply developed the European market and provided the most cost-effective MWT back contact modules. With its advantages of higher power, lower degradation and longer lifetime, the Sunport benchmark series of MWT modules can bring higher investment returns to European customers. At the same time, the MWT modules have attractive appearance with the iconic pattern over the world, the cell's surface pattern can be customized according to the requirement, which can bring additional product value, and fully meet the European customers' requirements.
In the future, Sunport Power will carry on the philosophy of "Innovation Changes the World", keep focusing on the further development of MWT solar cell & module technology, exploring new approaches and providing products with high quality, high efficiency and excellent reliability to the world. Sunport will sincerely build a high-end business brand for Chinese PV intelligent manufacturing.